--Dynamo is seen backstage--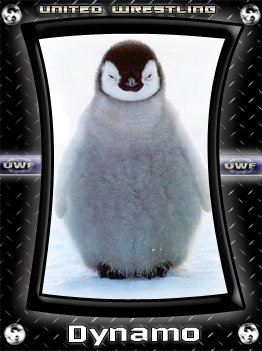 --Dynamo keeps walking and he pushes the crew members out of his way. Dynamo walks to the ramp entrance and walks on to the ramp. The fans are cheering. Dynamo walks staight in to the ring with a mic in his hand. Dynamo starts talking--
Dynamo: Alright! Shut up already!
--The fans are starting to boo--
Dynamo: Why you can't believe what I say? Are you deaf or something?
--The fans are starting to boo louder--
Dynamo: No need to tell it anymore. You proved it already. And since you can't be quiet, why would I even be out here? You don't seem to be respecting anyone. Yuo just love it when someone comes out here and starts to hype himself don't you? I hate it!
--The fans stop booing and they stay quiet--
Dynamo: Finally you are not saying anything. And now I can say a few words. I lost my match last week. I got money from it. That makes me one happy man. But, this is a business, and it is good for this business if I come out here and make some trash talk. And then someone who thinks he is the best in this business and stuff comes out here, says I am a piece of trash and all. It is just the way it is. Sadly I can't change it. And like I told, now someone comes out here to have a little chat with me.
--Dynamo looks on to the ramp and waits for someone to come in to the ring--
*The lights go down and the Ultimate Terrier's music echo's out around the arena. The crowd begin to cheer as the Terrier appears at the titan tron. With a big spotlight on him he begins to point at Dynamo and imitates him picking him and slamming him down, in what everyone has come to know as the Terrier Press, his finishing move. Dynamo looks around the stadium wondering what is going happen next, suddenly the Terrier sprints for the ring, as he gets there he slides in under the bottom rope and Dynamo decides to leave the ring. Music still playing he criss crosses the ropes until he makes his way up to the second turn buckle, once again imitating the Terrier press and pointing at Dynamo, the crowd going wild. In the midst of the action, a 3rd member enters the ring behind the Terrier and with a devastating chair shot, smashes the Terrier over the head, the Terrier collapses on the floor! The lights come up, the 3rd member is TTT*

Commentator: Oh my god is Triple T, what in the hell is he doing out here and why is he helping Dynamo?

*Dynamo re-enters the ring and stands over the Terrier with Mic in hand*
Members





Posts

: 61


Join date

: 2009-05-19



Dynamo: To answer your question, I don't know.

--Dynamo looks at Triple T--

Dynamo: I was just doing my business. And I don't like being interrupted. But, I see you aren't hitting me, so I'll let you be here. For now.

--Dynamo changes his attention to The Ultimate Terrier--

Dynamo: You, punk. I knew someone would come. But not that fast. And with that kind of confidence. You are just kind of wrestler I hate. You think that you are better than the rest of the peoples. I will tell you this, don't even try to talk to me with that attitude. It will only get you in troubles.

--Dynamo takes a look at the crow--

Dynamo: And you peoples should learn to respect the real wrestlers not this kind of junk.

--The Ultimate Terrier mumbles something and Dynamo tells Triple T to lift The Ultimate Terrier up. Triple T lifts The Ultimate Terrier up--

Dynamo: You got something to say?
*TTT has a hold of the Terrier, who doesn't look good, he is talking but very quietly. Dynamo leans over and puts the mic right up to his lips*

Dynamo: Speak up Puppy boy the rest of the federation wanna know what your mumbling about!

*As Dynamo gets closer to hear what he is saying the Terrier springs to laugh and latches on to his ear, with his teeth! Dynamo screams out in pain, as crimson red springs all over his and the Terrier's face. TTT in shock releases the Terrier, who runs towards Dynamo close lining him off his feet. Then running back to TTT he leaps on to him smashing him to the ground, performing a devastating Terrier Mount, TTT is out Cold. The Crowd are cheering, the Terrier looks down and signals for the terrier press. He makes his way to Dynamo who is still grounded picks him up, above his head, like weights on a bar then slams him to the canvas, executing the Terrier Press! The crowd goes wild and the music begins to play and the Terrier stands victorious with both men lying at his feet.
Members





Posts

: 61


Join date

: 2009-05-19



--Dynamo slowly gets up. The Ultimate Terrier goes next to Dynamo and lifts Dynamo up. Dynamo Low Blows The Ultimate Terrier and takes a mic, while The Ultimate Terrier is lying on the mat in agony--

Dynamo: Never try to get the best of me. Never. It won't work out well for you, ro anyone who try that.

--Dynamo gets out of the ring ans walks away. After it The Ultimate Terrier and Tough Tendon Thomas gets on their feet--
Commentator #1: I don't believe what's happening here. The Ultimate Terrier nearly bit off Dynamos ear. Have you ever seen an anmial like him before, Jerry?

Commentator #2 (Jerry): Sure have, Pete, but most of them had to wear a muzzle. Look at the Terrier! There's still blood dripping from his mouth, and i'm sure it's not his own.

Commentator #1 (Pete): The Ultimate Terrier and Tough Tendon Thomas are standing in the ring trying to stare each other down, while Dynamo who came out first to have this "talk" is already backstage.

Jerry: I bet he didn't expect this to happen. In his condition he won't be able to listen to any talk *chuckle*

Pete: Haha, very funny, Jerry. Look, Triple T got the mic Dynamo left in the ring. It seems he still have something to say.


TTT: I came out here tonight, 'cause i knew Dynamo couldn't have a normal talk with you. You're a madman, an animal who can just grunt and drool. The way you talk about me and others remind me of a barking dog. So i decided to give you a good one over the head, and because i forgot my newspaper i just took the next best thing i found. And you know what?...

I would do it again, anytime, anywhere, because you proved tonight that you're just a rabid animal that has to be put down. And i'm ready to put you down anywhere, anytime you want!


Jerry: Whoahh, i guess the Terrier won't be happy about these words.

Pete: But look at him! It seems he didn't even hear them at all. His face hasn't changed a bit and he's still just staring madly at Tough Tendon Thomas.

Jerry: Triple T seems a bit confused by the lack of reaction. He shrugs his shoulders and throws the mic to the Terrier.

Pete: He still doesn't do anything but staring and breathing heavily. The mic bounced off his chest.

Jerry: Triple T seems to have enough. He leaves the ring and goes backstage, leaving the warrior staring at him...
Members





Posts

: 40


Join date

: 2009-05-21


Location

: Germany





Similar topics
---
Permissions in this forum:
You
cannot
reply to topics in this forum